I read an article on Squidoo recently,
making money from poetry
and one of the suggestions as to how to do this was to try creating posters on POD sites and make money by selling the posters. Well I was not absolutely convinced but thought that it was worth a try.
So I have created my first two posters in this group. The first uses a background image provided by one of my pastel paintings .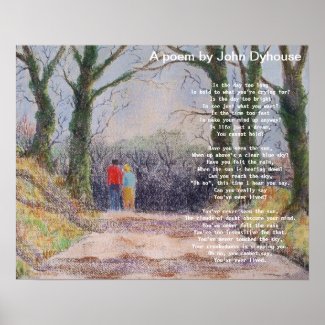 A Poem: The Waterfall
by
artyfax
View more
Poem Posters
I have ordered a couple of Tee-shirts from my store as nobody else seems to be buying them, LOL. Seriously tho', I decided that I really liked some of the designs and in order to use up some of the money which I have been accumulating, I would treat myself to a couple of shirts.