My initial reason for joining Zazzle was to try a make a little cash from my paintings; these were the images which I used in my early days with this Print-On-Demand company. Alas, the best laid plans do not always work out as you hoped. I soon found out that success on this site was not simply dependent on having good original images. Like most things you need to work at it, hence this blog. However, I guess I am not terribly good at promotional work. Most of my sales have been products with photographic or cartoon images. Am I despondent? Of course not! I am too much in love with painting to worry over whether I can make money from it. I have sold several at exhibitions, but then I am always sorry to lose them. I often wonder if they end up in someone's garden shed or worse yet, maybe even the local rubbish tip.
But I keep trying - in my own way to put forward the images on Zazzle products, maybe I will strike lucky one day. Or perhaps when I am not here, my artistic merit (ahem!!!) will be recognised and my family will see a benefit. So here is a reminder of a painting, one which I am very fond of. I used a photograph, as a reference for this sunset, which a friend had posted onto a web page. Sometimes, I wonder if my sunsets are a little too colourful but then I see something like this - nature is wonderful.The first product is a printed canvas - a range of sizes are available with prices to match.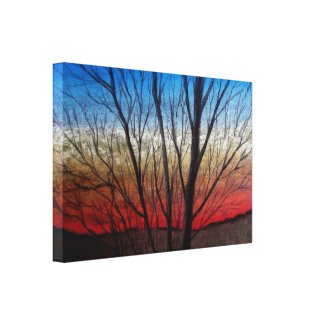 Sunset thru' trees wrapped canvas gallery wrap canvas
by
PastelsByArtyfax
Browse Sunset Canvas Prints online at
Zazzle.com
Or what about a postcard? Or a greeting card? I even do mugs with this image and will be happy to try to put the image of this paiting or any other on any Zazzle product. Just leave me a message in the comment section.