I do love taking photographs when I am out walking, and if the scene presents an odd subject, so much the better. I saw this tree and the associated growth of its neighbour on holiday last year,
I had to take a photo
.
It made me think about several sets of feelings including "love / caring", "fear of potential loss", etc. The other thought was "why this tree and not the other?" And looking through some old images for another set of cards I came across this having already used it last week on some tee-shirts and thought that it would make an ideal image for a postcard. So here it is:-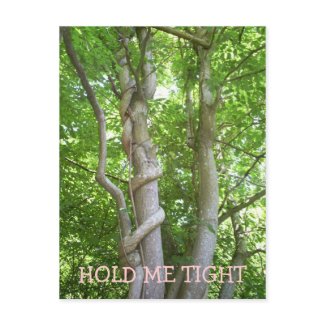 hold me tight
by
ArtyfaxCards
Create your own
postcard
with zazzle.co.uk
I have quite a few photos of stranger than fiction trees, I think I really must look out a few of them - could be some mileage in them. I may also start to include some of these as I find them on my blog, "
photography for fun
". They won't all be suitable for Zazzle so it will be an opportunity to air them.