Zazzle has recently introduced many new products which I am only just catching up with. They now have a set of wall decals in many different sizes, shapes and configurations, which could have many uses around the home or work place - including schools. This was my first experimental design on this range of products and whilst working on this I tried out many of the configurations. I haad so many ideas; I just need a little time to actually design some viable products.
What is the fuss about? These decals can by put up anywhere, taken down and stuck up again, over 100 times. They leave no marks and no residue. Perfect for a quick change of decor in those little corners or in a childs bedroom. Take a browse at some ideas and I am sure that you will find some ideas of your own. Here is my first trial product:-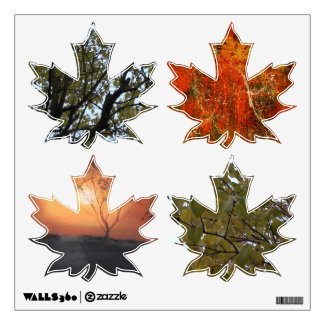 Autumn themed Maple leaf Decal 360
by
artyfax
View other
Autumn Wall Decals
There are many more designs in, as I say, many shapes and sizes. This one is very much larger (but can be customised to a smaller size to make it less expensive. It uses abstract patterns:
Autumn Leaves Wall Decals
by
ChinaberriesEmporium
Browse
Leaves Wall Decals
This time of year must be the best time to visit many of the arboreta which will be showing their trees in autum foliage. In the UK, one of the best known must be
The National Memorial Arboretum
which is open all year (except Christmas day with free entry. Another very well known and well visited arbouretum is that at
Westonbirt
, a must see option for lovers of trees. And not to forget
Batsford Arboretum
which claims to be the UK's most visited.
For non-uk residents, just Google your country name + arboretum and I am sure that you will find many splendid examples near to you.
All of these and many more, will provide wonderful displays of autumn colour in October of almost any year