YESSSSS!!!
It is only a postcard for which my royalty payment is hardly going to make me rich, however it is a sign of things to come. I have a new shop with about a dozen cards and one is sold. Is this good? Well Zazzle say on their homepage that they have 41 Billion, that is 41 000 000 000 products for sale. I guess to be seen and sell one is pretty good. At least I am very optimistic that I may be able to makae a few pounds as I start to populate my store(s). The card sold is:-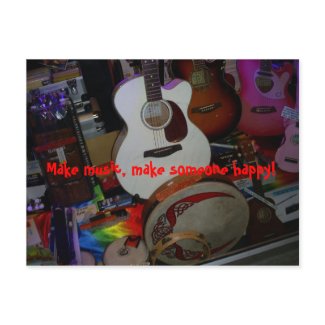 make music
by
ArtyfaxCards
Start
selling my art
online with zazzle.
Very similar to the greeting card which I have already posted on here, but with a slightly different text.
Back again tomorrow.