OK, just to get this new blog up and running I am going to see how long I can keep posting one-a-day.
I really do find the navigation on Zazzle a real pain. Wether it is simpy that I am not using it enough but I keep finding thjat I have to think really hard about how to get to a particular page. I do not find it intuitive. Foe example, I noticed this morning that I had made a typo on one of the cards which I had just posted yesterday. How on earth could I edit it. I soon found out how to edit the information but not how to edit the card itself. In the end I tried something and ended up re-posting it as a new product, so I had to delete the original. That can't be right, there must be a way of editing something.
Anyway, another card from ARTYFAXCards.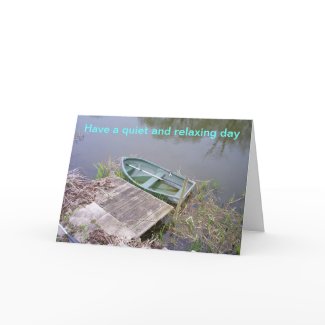 have a relaxing day
by
ArtyfaxCards
View more
Water Cards