I have been telling myself for some time that I need to start a blog to comment on tmy experience with using Zazzle, a print on demand facility, to sell my art and digital designs. I started by writing a page on Squidoo, titled,
My First Steps With Zazzle
. However it soon became clear that I would need an on-going blog to write about and promote the Zazzle store. So here it is.
So far I have two separate stores on Zazzle, The first was started before I really knew what I was doing ( in feet first as usual) and I developed a range of products which included many different types and image sources. As I got to klnow a little more I decided that I needed to hace more than one store with a range of products from a particular niche. A card shop, A clothes shop and a gift shop. Why? Hopefully it will be easier for potential customers to find something that they will want to buy. If you are looking for a t-shirt then you expect to be able to look through a shop which sells t-shirts. At least that's my way of thinking. I will be opening 3 or 4 shops over the next few months as I race toward my retirement. Hopefully by the time I am cut adrift from work, my earnings from Zazzle will enable me to have jam with my bread and butter.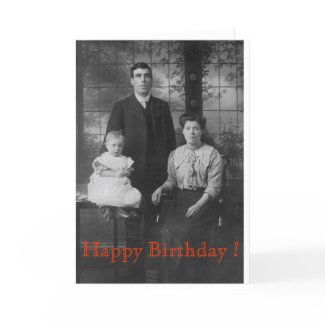 Vintage family
by
ArtyfaxCards
See more
Vintage Cards
My very first product in the first new store. I hope to add many more soon anad I will try to let you know what I am learning about being on Zazzle. Back soon....