OK so it is only one day since my last post but I am on a run (LOL).
I actually wanted to create a tee for myself with a specific design. I created a few designs on the basis of this approach some time ago - never really been successful except for the ones I bought, but I have just started wwriting my first novel and I wanted a Tee to celebrate. This line drawing was found on Wiki Commons and was in the public domain so I thought, "this ones for me".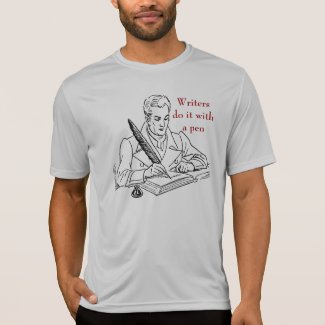 Writers do it with a pen (quill) tee shirt
by
artyfax
Browse
Writer T-Shirts
This one of course, was added just in case any lady writers were interested.
writers do it with a pen tee shirt
by
artyfax
Create your own tshirt
online at Zazzle.
And if you think that I am telling porkies, here I am in a few of my previous purchases. They really are great products from Zazzle, a little expensive perhaps but you get what you pay for. And don't say that you didn't know that.
"ROCK ON"
Guitarists do it with their fingers
(my wife thinks this has a double meaning)
not terribly clear, but this is one of my abstracts
(on the shirt that is)
Treat yourself, lots more designs in my store just click on oone of the top two tee-shirts and browse.